The floor is an important part of the interior. It affects the appearance of each room and creates a certain atmosphere in the house. When choosing a floor covering, remember that all interior elements should be properly combined with it in order to create a cozy and pleasant environment.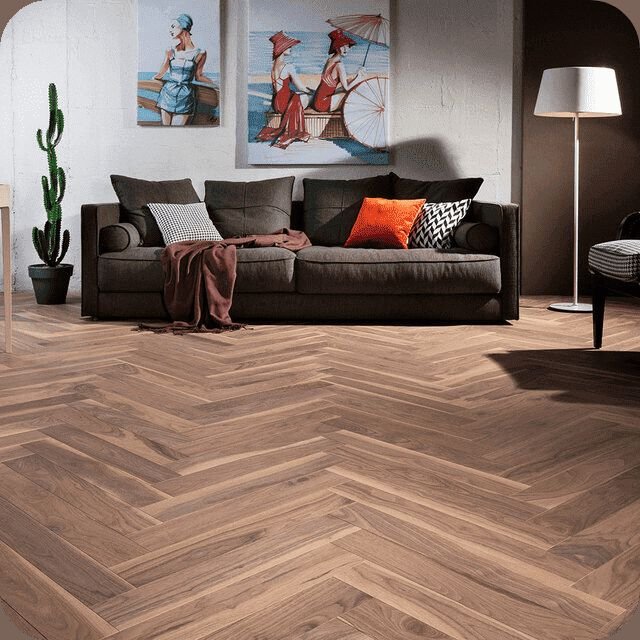 Floors should correspond to the lifestyle of people living in an apartment or a country house, fit into the overall design and meet fashion trends. Then the housing will look not only beautiful and stylish, but also modern.
Top 6 flooring trends 2024
Flooring trends change every year as new production standards emerge, trends that influence our design tastes, and technology advances to provide a variety of flooring materials.
Modern floor coverings will help to transform the interior, effectively zone the space, emphasize the status and individuality. What flooring will be in trends in 2024, we will consider further.
Natural wood
Natural wood is a classic. Such a coating is environmentally friendly, retains heat well, is durable and looks noble. Parquet and parquet boards with a pronounced woody pattern, with an uneven arrangement of fibers, and distortions in the color scheme (uneven tone) are popular.
Bleached wood
In 2024, flooring manufacturers decided to move away from natural brown, replacing it with softer shades. Therefore, one of the trends of the season is the use of the effect of bleached wood. It is achieved by removing the natural brown tone with special chemicals. After treatment, the floor acquires a soft shade with a slight wear effect.
In addition to the decorative component, such a floor covering has practical benefits. Bleached wood brightens the room, softens its overall atmosphere. The neutral hue goes well with furniture and wall decoration in the same style.
Aged tree
The effect of shabby wood flooring remains relevant in 2024. This solution is great for a rustic-style room, and is also used when you want to give your living space a vintage look. The degree of aging, shade and texture can be selected according to your taste and in accordance with the design of the room.
Concrete, stone imitation
In modern design, calm shades, materials resembling raw floors, uneven surfaces are increasingly being chosen. Therefore, such a new trend as concrete tiles has appeared. Its neutral color and uneven texture make it interesting to decorate living rooms, bathrooms and dining rooms. The material is suitable for modern interiors and rooms in an industrial style. Imitation of natural stone is also relevant. Manufacturers offer many options for laminate and vinyl with such an effect that allows you to create an original design using soft-touch durable products instead of cold materials.
Graphic tiles
Graphics and patterns on tiles are trending in 2024. The fact is that the floor with such effects balances the design of the room, gives rhythm, focuses attention on the interior elements that you want to highlight. In this case, the geometric shape may not be traditionally square. It is allowed to use elements of different sizes, with a repeating pattern or in the form of puzzles. Graphic tiles can be chosen for any room and style, including both non-standard extravagant interiors and calm and cozy atmosphere. This is the versatility of patterned flooring.
Ceramic granite
Porcelain tile is suitable for decorating a room in a classic style. A variety of shapes and patterns of this material allow you to realize the most daring ideas. Popular types are hexagonal tiles, chevron and herringbone. However, you can choose any other shape you need. This also applies to textures and colors.
If you are interested in curly styling and durable, safe materials, you can choose a laminate. It allows you to form different patterns on the floor, thereby adding uniqueness to the interior.
When choosing a floor covering, remember that it should be in harmony with walls, doors, decor elements. With it, you can create a soft unobtrusive atmosphere in the room, effectively zone the space or make an interesting accent by playing on the contrast. But even if you use bright colors and unusual materials, keep in mind that they should not strain, so combine them wisely.
What floor color is relevant in 2024
The popularity of neutral, natural shades in interior design will continue into the new season. The classic black color will be replaced by soft gray and other light colors.
What color to choose for the floor:
White or its variations (cream, almond, ivory, ivory, etc.) – goes well with different styles, softens the atmosphere, makes the room lighter and visually more spacious.
Classic gray is versatile because it combines with various shades and helps to stylishly decorate the space.
Noble walnut – pleasing to the eye, creates an atmosphere of warmth and comfort.
When choosing the color of the flooring, avoid saturated and aggressive shades. Strive for a natural and organic design. Bright tones, such as red, can only be used pointwise if you decide to make an accent, but they should be combined with other colors in the design.
Flooring decor trends 2024
2024 offers various options for decorating the floor. Most of the current patterns were popular before. Now they are again in the lead, but in updated variations. Therefore, you can use traditional patterns and at the same time give the room a modern look.
Classic pattern
The flooring, in particular laminate, can be laid diagonally, horizontally, squares, deck, thus forming a beautiful elegant pattern without too much pathos.
Herringbone or chevron
Laying lamellas or tiles at an angle to each other allows you to get a beautiful floor, and the use of different shades and textures will make it original. Such patterns give the floor a visual volume and look noble.
Original drawing
To get a unique interior, you can use stencils, non-standard combinations of textures and colors, a combination of wide and narrow stripes, add dotted bright colors. Such techniques allow you to create interesting patterns on the floor that attract attention and reflect the character of the people living in the house.
The decor of the flooring should be consistent with the overall design and purpose of the room. Large drawings should be used only in spacious rooms. They look good in living rooms, kitchens and nurseries. And for small rooms, it is better to choose something simpler so that the situation does not crush. It is also impossible to mix two polar styles. For example, a luxurious floor pattern is unlikely to fit into a minimalist design, just as a discreet gray herringbone floor will not blend harmoniously with empire or fusion.
Fashionable floor coverings for different rooms
All floor coverings have their own operational and design features. Some materials, due to their water-repellent properties, are suitable for the bathroom and kitchen, others, due to their strength, for rooms with heavy traffic, and still others, due to their aesthetic appearance, for decorating bedrooms and living rooms. Therefore, in order to make the best choice, it is necessary to take into account the purpose of the room.
Which floors are best for different rooms:
The fashionable floor for the kitchen in 2024 is selected taking into account high traffic and high humidity. Think porcelain tile, vinyl tile, or laminate. These materials are durable, wear-resistant, protected from moisture and damage. Manufacturers offer a wide selection of colors and patterns, but imitation wood, stone, marble, concrete remain relevant options.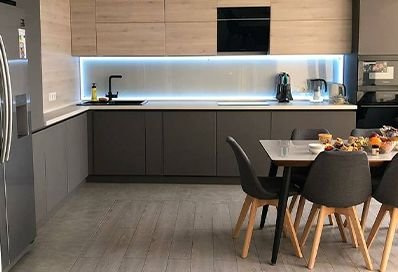 Modern bathroom flooring is always selected with high humidity in mind. It should be hygienic, with antiseptic impregnation, not slippery. Therefore, the best option is ceramic tile or quartz-vinyl. There are several options for shapes and shades. Intense colors such as black, red or green are allowed for the bathroom, as well as decorative terrazzo-style tiles, fish scales or mosaics.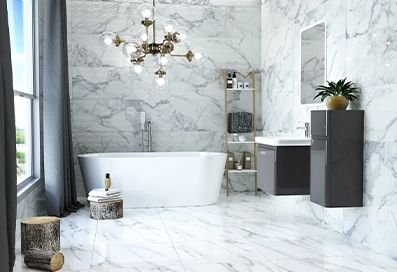 The actual floor for the living room is a very important element of the interior, as the hall is the hallmark of the house. It is necessary to choose a material taking into account practicality and aesthetics, so that it can withstand high loads and have an attractive appearance. To perform these tasks, a classic and textured laminate imitating natural material, parquet or parquet board, is suitable.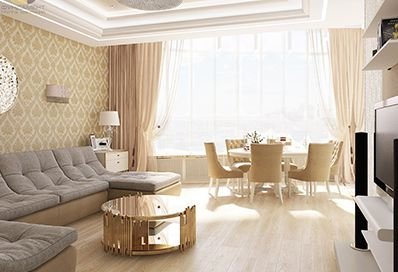 The choice of flooring for the bedroom requires a special approach. Since this room is intended for relaxation and sleep, natural materials and calm tones will do. Pay attention to vintage parquet, parquet with stripes of different lengths, material that is laid using the chevron technique, laminate with imitation of natural wood. To achieve a cozy atmosphere and brighten up the room, use bleached wood or bleached wood effect laminate flooring in the bedroom.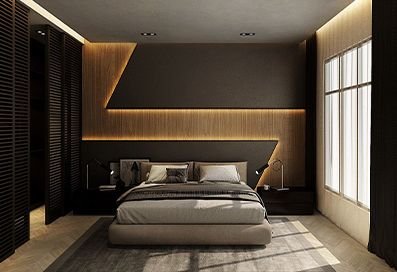 Laminate is suitable for a children's room, as it goes well with different floor heating systems, quartz vinyl laminate, parquet board. These materials are wear-resistant, moisture-resistant, insulate noise, pleasant to the touch. They are comfortable to walk on barefoot. In addition, a variety of decor offered by manufacturers allows you to choose a floor covering with a theme that is interesting to the child.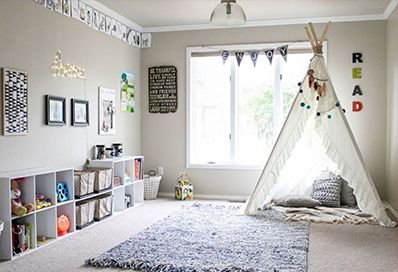 When decorating the floor of the dining room, practicality and pickiness in care are important. Therefore, for a room intended for eating, they select concrete tiles with a light texture that are easy to care for, vinyl flooring or waterproof laminate. You can also use a hexagonal slab with natural shades for an eco-friendly design or a bright wood. If in doubt how to arrange tiles or slats, use the universal herringbone technique or call us for advice.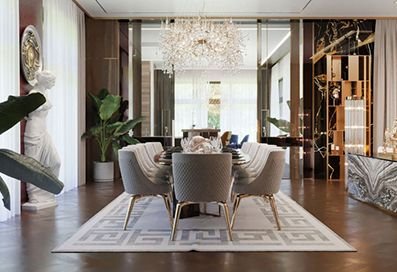 When choosing flooring for the hallway, you need to understand that this is a high traffic area. Here, first of all, it is necessary to pay attention to durable, wear-resistant, water-repellent and easy-to-clean materials. The most suitable way is to use linoleum or vinyl flooring. However, if these materials do not match the style in which your apartment is decorated, you can choose a laminate or parquet board. Products are resistant to mechanical damage and moisture. It is better to lay the coating with imitation of natural materials, but you can choose another option.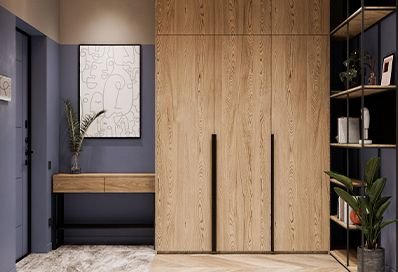 If we are talking about a shop or office, the flooring for these premises must be durable and solid. Durable and presentable is laminate and vinyl. These materials look high-status, resistant to impacts, mechanical damage, wear, withstand heavy loads and high traffic of people.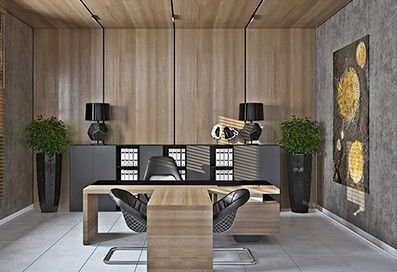 In 2024, manufacturers offer a large selection of flooring for every budget. Taking into account the trends, you can choose materials with luxurious decor, painted in expensive deep colors, as well as use cheaper options that are of good quality and blend harmoniously into the overall design.
It is convenient to buy high-quality floor coverings from the best manufacturers in the Interior design. The catalog contains classic and fashionable products that are made from safe raw materials and meet international quality standards, which is confirmed by the relevant certificates. For advice and assistance in choosing, call us by phone, write to the chat or leave your details for a call back, and fill out a special form to place an order. On the site you can also order a measurement.