Interior design is not as subject to fashion fluctuations as, for example, the fashion industry, but no one has canceled new trends in interior design 2024. In part, new trends will replace the old ones, in part, some of the old ones will undergo some changes.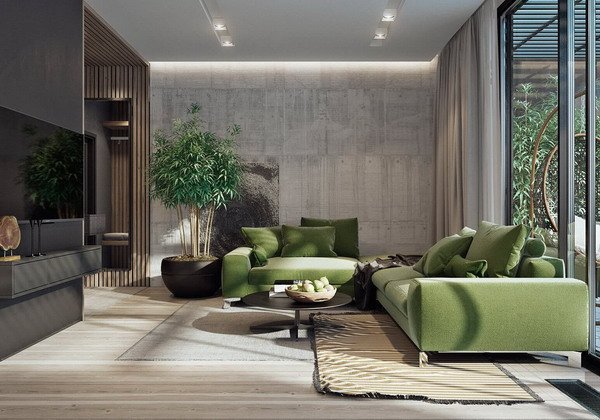 2024 is still the time when environmental friendliness, awareness, manifestation of personality in the interior, various experiments in search of an original solution are in fashion. But when furnishing your home, it is important, first of all, to focus not so much on trends, but on your own sense of space, which should become a refuge from the outside world, a place that gives rest and helps to gain strength. The interior design trends 2024 will help with this, but their task is to emphasize individuality, and not push it into the background for the sake of fashion.
Top interior design trends 2024
Cozy minimalism
Artsy interiors with flashy accents and piling up of details have long been out of fashion. Modern design solutions are built in accordance with the concept of minimalism. This is a kind of visual manifestation of the rejection of mindless consumption. Apparently, the trend will remain relevant for a long time, however, it is also not entirely correct to talk about its invariance. The coming year will be characterized by a transition to a softened version of minimalism. Previously, this style caused many associations with soullessness, excessive severity and coldness. The minimalism that 2024 brings us will be different. It is characterized by more lively interior solutions that have become more "personal" and look much more comfortable than the "standard" interior that is associated with this style. First of all, it is shown in color. For the base choose warmer shades. The base is beige and light brown, complemented by muted variations of red, ocher, sometimes blue or green. In addition to the color filling, various materials are used that are pleasant to the touch. It can be wood or textile. The shape also plays an important role – in the case of cozy minimalism, smooth and rounded lines should prevail. Finally, minimalism can only serve as a base and "play" with other styles – boho, Scandinavian, classic, and so on. Such style weaves will give the interior a more individual sound and help reveal its special character.
Smart housing
A smart home is the dream of many. The idea is that literally every inch of living space is used functionally. It is not necessary that the apartment be large – it is important to manage the available space wisely and not neglect the achievements of technological progress. The output should be the optimal combination of comfortable living space and new technologies. All kinds of gadgets are indispensable helpers in everyday life. Smoke, gas, heat and motion sensors, remote-controlled equipment, voice assistants and much more will perfectly complement and make life easier in both a small studio and a spacious house. Ideally, you should install a smart home system, but if something still prevents you from doing this, you can get local smart gadgets – a robot vacuum cleaner, a remote-controlled kettle and a slow cooker, smart switches and sockets, "economical" faucets, sockets hidden in the countertops and wireless chargers, and more. But a smart home is not only technology, but also the organization of space itself. Even in small apartments, they make small utility rooms that can accommodate pantries, dressing rooms, laundries, and so on. All this allows you to isolate the domestic side of life and not clutter up the main space, freeing it for more pleasant things. Modern trends in interior design (2024) certainly include the creation of inconspicuous technical areas. This is a must have for those who love convenience, functionality and thoughtfulness.
Retro style
In parallel with smart technologies, the new trends in interior design (2024) are also penetrated by a seemingly opposite trend – the prevalence of the spirit of the past. However, they can be called opposite only at first glance. In reality, these currents are perfectly combined. Retro-fashion in the interior gives the home a special charm, and the technologies that are hidden behind massive chests of drawers, leather sofas, floor lamps with large lampshades and other fashion attributes of previous years make life more comfortable. The apartments of fans of this style will be decorated with vintage furniture, antiques and antique-styled remake, as well as non-standard decor. Emotionally, this trend creates a special mood of comfort, a strong connection with the family, and evokes nostalgic memories of childhood. Retro-lovers easily abandon the dressing room in favor of a library with heavy cabinets to the ceiling, opt for an old sideboard, abandoning modern shelving, and give old things new life.
Eco trend
Environmental friendliness can hardly be called something new, but this trend, apparently, is not going to go into oblivion – on the contrary, it is gaining momentum and developing more and more actively. Interior design novelties (2024) are biodegradable materials that do not emit toxins, as well as furniture and other items made from recycled materials. Such a description may not look very attractive, but in practice such things look very stylish and demonstrate the "green" position of the owner of the home. In addition, this style implies equipment that saves resources – water and electricity, a special garbage container with compartments for sorting waste, and the absence of genuine leather and fur elements in the interior. A dishwasher, a waste disposer in the sink, smart switches, an electric stove are perhaps the most common manifestations of an eco-friendly home. Plants in ceramic pots will complete the overall picture.
"Museum" style
The new interior design trends of 2024 aren't necessarily minimalism, recycled bedspreads, or wireless chargers hidden in the armrests of a sofa. Not all are adherents of asceticism in the interior. It is vital for many people to surround themselves with beautiful objects, creating a kind of museum in their home. It is not necessary to turn the apartment into a mini-copy of the Hermitage with its strict pathos and gilded frames. But if the soul lies in beauty, you can dilute your home interior with several bright paintings – reproductions of paintings by classics or works by contemporary artists that are sold on the NFT exchange. Collectible porcelain, whether modern or rare, will look great both on a shelf in a sideboard and on a table waiting for guests. And on the bedside table you can place stylish trinkets like original figurines. There will always be those who consider them a useless heap of objects, but this does not matter if the contemplation of beauty brings pleasure to the landlord.
"Emotional" style
The times of typical interiors and "correct" decisions are long gone. Of course, no one forbids being inspired by design developments and taking ideas on the Internet, but now many are striving to bring something of their own, personal to the interior. It can be a completely unexpected detail – a bright color accent in the form of a flashy red armchair in a white and gray room, heavy velvet curtains, children's drawings, a collection of CDs that have not been used for their intended purpose for two decades, greeting cards collected in a collage and etc. The form is not as important as the content. The idea is to fill the space with something personal. It is important that the things that make up the interior evoke a lively response in the heart and make you experience real emotions.
"Natural" style
In the modern world, which is characterized by a frantic pace of life and the rhythm of a big city, people often want to feel closer to nature. In reality, it is not always possible to do this at any time. But there is a way out – you can make sure that the house helps to achieve this state. This reflects the current trends in interior design in 2024. First of all, a dwelling that promotes the unity of man with nature looks deliberately imperfect, "man-made" straight lines and angles are minimized in it. Instead of them, irregularities, notches, and roughness prevail. Fans of the trend for naturalness will choose not a polished countertop, but a piece of stone that looks like it was shaped not by the skillful hands of a master, but thanks to the forces of nature. They will like furniture, in the pattern of which knots and veins are visible. Usually love for this style is combined with a commitment to manual labor. People living in such apartments are fluent in various types of needlework, filling their home with new and new elements that give it comfort and warmth. Knitted blankets, macrame, handmade pots, wooden furniture and much more fill their homes.
"Air" style
Fashionable interior design 2024, trends that attract attention, cannot do without modern solutions. In the coming year, transparent textures will attract increased attention, due to which it is possible to create air space even in very small rooms. Furniture made of tempered glass, partitions made of this material, transparent curtains and other similar elements allow you to zone the room, give it maximum functionality, but at the same time avoid piling up. Transparent coffee tables, glass tops and cabinet doors, multi-colored glass partitions with various inserts – all this allows you to play not only with space, but also with color. Of course, such solutions are not very suitable for an apartment where there are small children – they may turn out to be unsafe.
Interior color trends 2024
Fashion trends in the interior extend not only to the furnishings of the premises, but also to colors. In accordance with the Pantone palette, in 2024, the trend was cream nude, reminiscent of both vanilla and caramel shades, as well as light lilac, shimmering in gray, milk chocolate and olive, slightly fading into brown. All these are calm, deep shades, but bright colors will also be in fashion. These are orange-orange, light green, dirty blue, bright yellow and fiery. Simple colors are not in trend right now. All sorts of colorful combinations, natural shades in all their diversity, deep and multifaceted colors are gradually gaining popularity. With their help, you can create an atmosphere of comfort in the apartment, carry out competent zoning of space and place the necessary accents.
The most popular in the coming year will be a warm color scheme with its milky, brown and pinkish hues. These colors will play out in the most advantageous way, contrasting with deep green, white or black, if the latter is used as the main color in the design of walls or floors. Such color solutions will be in harmony with the eco-style or the interior, sharpened for rapprochement with nature. Against the background of a similar palette, jute rugs, rattan chairs, woolen blankets, linen napkins and wooden tabletops will sparkle with new colors.
Bathroom colors 2024
For a long time, the bathroom was designed as concisely as possible: white plumbing fixtures combined with gray tiles were a must-have. This solution can be found in many apartments, but 2024 offers to approach this issue with more originality. Colored sinks and toilet bowls, "tropical" or "forest" prints, stone, wood and other natural materials with different textures are gaining popularity.
Not monotonous
The design of apartments in 2024 is waiting for new trends in the design of the walls (photo in the interior). This is good news for those who have had time to get tired of plain coatings. Geometry, pop art, all kinds of ornaments, ethnic motifs and so on come back into fashion. It is important that the colors are not flashy, but somewhat muted. However, experiments with combinations are declared open.
Furniture trends 2024
You should not expect a "furniture revolution" in the coming year, but some innovations have been outlined here as well. But you can also see a lot of old familiar trends.
Not for the trash, but for restoration
The furniture restoration trend has been around for a very long time, and among its followers there are real fans of their craft. They find old tables, chairs, cabinets, and chests of drawers on listing sites, refurbish them, freshen up the flooring, and then sell them or use them at home. If the furniture is to be restored, and its condition allows you to give it a more modern look, you should not throw out this item. Restoration is a way to kill two birds with one stone: save money and radically change the interior without much investment. Patina, matte paint, gloss, mirrors, getting rid of all unnecessary decor elements – all this will allow you to get an original thing that cannot be bought in the mass market, a real exclusive.
Smooth lines
As mentioned above, now the fashion for clear lines and angles is gradually departing, and this applies to furniture in the first place. Slightly "floating" forms, smoothed corners, rounded lines of cabinets and armchairs, amorphous poufs – all this visually gives the interior a feeling of comfort and expands the space. But do not get carried away too much: there is a risk of missing a design idea. In addition, it is important to clearly distinguish between modern solutions with "hello" from zero – outdated wavy facades and suspended ceilings in the form of voluminous clouds. You can complement such furniture with loose and porous textures like a boucle bedspread and coarse knit pillows.
Bedroom furniture 2024
In 2024, beds with an unusually designed headboard will be especially popular. It can be a play of textures, colors or shapes. Relevant are functional models equipped with a lifting mechanism, headsets that provide not only a bed, bedside tables and a wardrobe, but also a dressing table with a bench. Decorating the bedroom, it is better to abandon the banal pillows to match the bedspread and give free rein to your imagination by experimenting with colors and materials. If there is no separate bedroom in the apartment, you should take care of privacy by adding a screen or curtains to the room.
Kitchen furniture 2024
For the kitchen in 2024, a concise design will be the most relevant. You should not get carried away with all sorts of fitting excesses – the material and its texture, as well as color and carefully thought-out lighting, should speak for themselves. Gray and white colors, as well as facades stylized as stone or wood, will perfectly fit into the interior.
Relevant materials in 2024
Wood and stone
Closeness to nature is an interesting trend that opens up a wide scope for design ideas. It is important to organically fit these materials into the interior so that they do not look too simple.
Metal
Laconic and smooth metal parts are used in the legs of chairs and tables, facade handles, kitchen railings and so on. Metal is used in homes everywhere.
Glass
It is worth paying attention to furniture made of this material, as well as consider glass partitions as a zoning option. And individuality in the design of the apartment will be added by paintings using glass elements, stained glass mosaics, multi-colored dishes and so on.
Ceramics
Ceramic pots, plates and cups, a soap holder, a glass for a toothbrush – all these details will add coziness and warmth, as well as dilute the glass elements.
Eco-materials
Products made from recycled materials are very relevant. These are clothes, towels, bedspreads, laundry baskets and even wallpaper. For those who are concerned about protecting the environment, 2024 is preparing many opportunities to show their concern for nature.