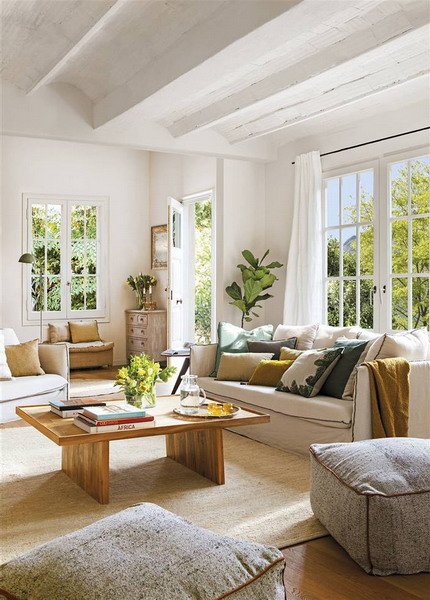 For some time now, the term 'Aesthetic' has been everywhere, but what exactly does it mean and what does it have to do with decoration? We tell you!
Aesthetic decoration is sweeping interior design, in fact, on Pinterest there are endless boards dedicated to this trend. You still don't know her? Well, you should know that it can be adapted to all kinds of styles and rooms.
What is Aesthetic in decoration? Surely you have asked yourself more than once, and the answer could not be simpler! It is one of the most successful trends in interior decoration 2024, and it consists of creating spaces (mainly bedrooms and living rooms) that are aesthetic, that is, beautiful, clean and tidy. As you can see, its options are endless and can be adapted to all kinds of styles. Will you join us on an inspirational tour of different proposals for your home? ??
1. Pictures cannot be missing in the aesthetic decoration
Decorating the walls with paintings is one of the keys to achieving an Aesthetic style in any room. The ideal is to coordinate the colors of the paintings with the rest of the decoration to create a 100% harmonious set. Size is also important. Better a large one centered on the sofa than many small ones, which could give the impression of an empty wall.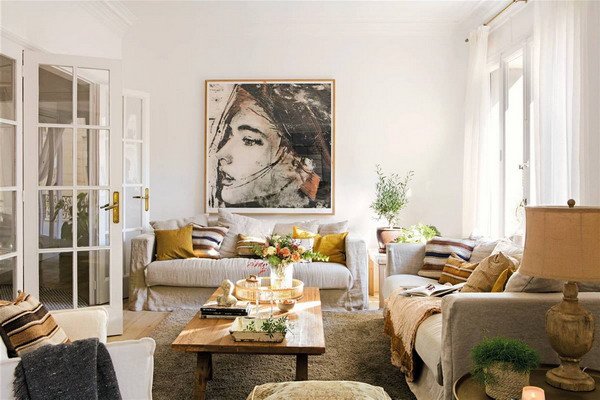 Sofas, from Timeless. Coffee table, Cotton and Wood. Carpet, from La Garriga Verda. Auxiliary table, by Cado. Curtains, from IKEA. Painting by Lidia Masllorens.
2. They are the best 'eye catcher' element
We refer to those elements that instantly capture the eye and mark a before and after in decoration, raising the Aesthetic concept to its maximum expression. You can hang the pictures or support them on the walls.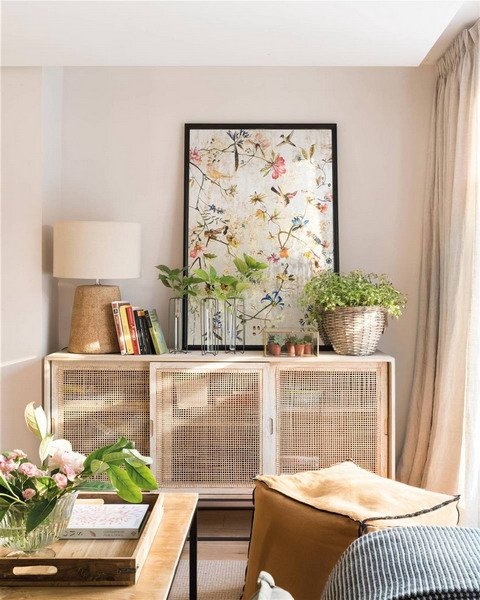 Sideboard and table lamp, in Catalina House. Picture, from Sacum.
3. A full-fledged aesthetic bathroom
If you want to have a bathroom decorated in an Aesthetic style , you will achieve it by taking care of the details. In this case, an XL sheet over the bathtub is more than enough to generate the desired visual impact in a modern and minimalist environment.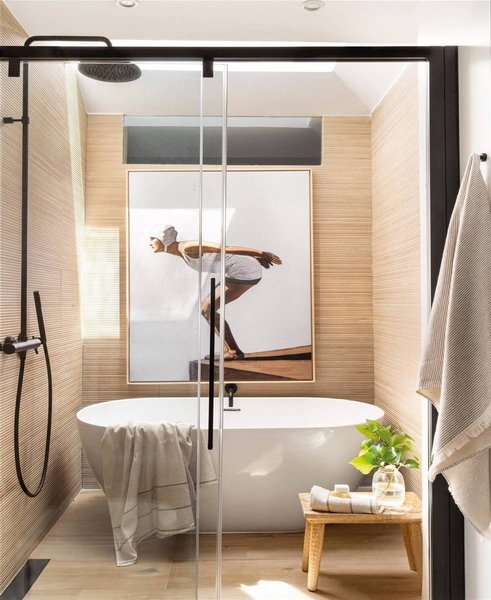 Bath, taps and coating that imitates wood, by Gala. Picture, from Posterlounge.
4. Set up a reading corner with (many) plants
Is there anything more Aesthetic than a reading corner decorated with indoor plants? If you add another trend such as natural fibers to this, the result is a cozy space that invites you to relax.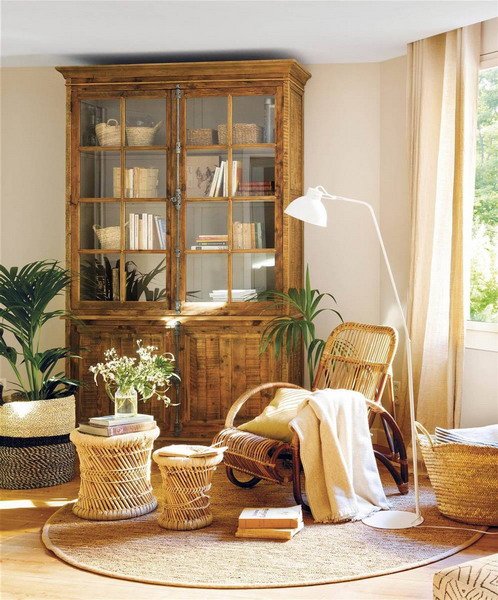 5. Wallpaper, a must for aesthetic decoration
What are Aesthetic rooms ? Basically, they are very inspirational and beautiful bedrooms, the kind that always star on Pinterest boards and Instagram feeds . Wallpaper undoubtedly helps a great deal to win an Aesthetic room . What sweetness and light!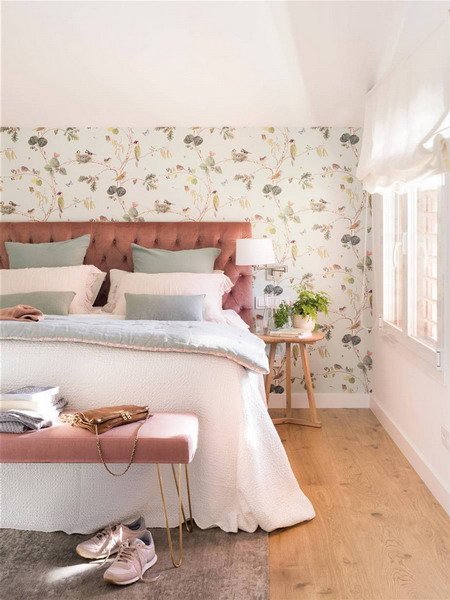 Woodland headboard, rug, bench and wallpaper by Sanderson, all at La Maison.
6. Cabin-style bedrooms, very cozy!
A decorative style that abounds when you search for Aesthetic bedrooms on social media is rustic. Specifically, the cabin-style bedrooms, with wood on the ceilings and walls, carpets and bedding with different textures.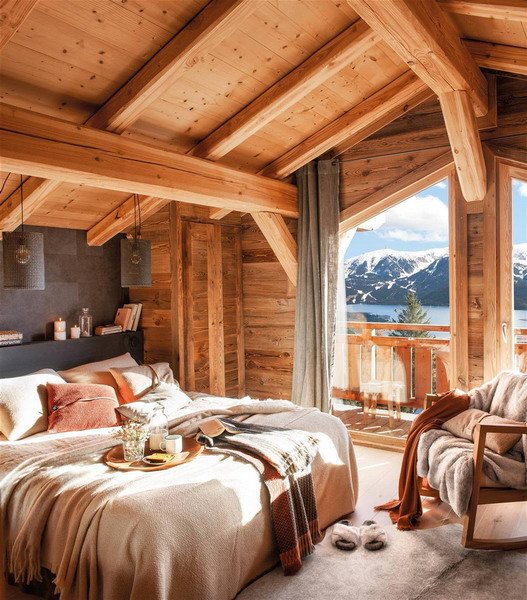 Work headboard and armchair by Sophie Bataglia.
7. Minimalism is also aesthetic
The minimalist decoration also fits perfectly with the Aesthetic concept . Less is more, and the visual order and cleanliness that characterize this style confirms this. Don't forget to choose neutral tones!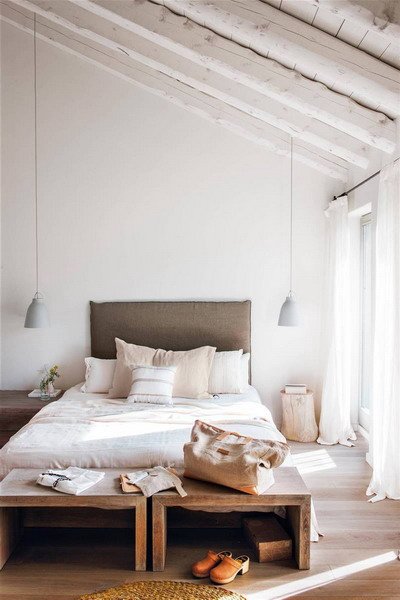 Linen headboard, from La Maison. Trunk, as a bedside table, and stools, by Alto Interiorismo.
8. Let the light be made
Good lighting is essential to conceive a living room decorated in the Aesthetic style . The ideal? Let it be natural light, of course.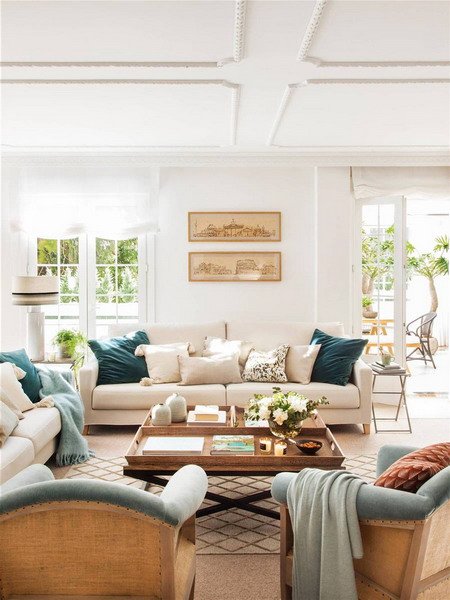 Sofas by Atemporal and armchairs by Crearte.
9. Colors inspired by nature
Being inspired by the colors of nature is always a success, especially in the decoration of living rooms. Greens, earths… these tones, in the company of indoor plants, will help you find the best Aesthetic look.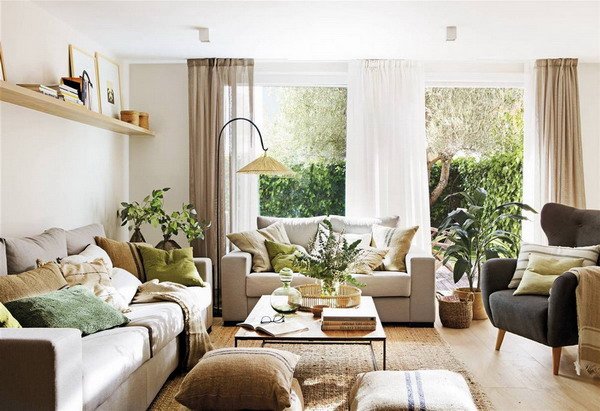 T&C Projects sofas, in Matèria. Armchair by Kave Home and coffee table by Sacum. Floor lamp, in Carolina Blue.
10. A very aesthetic office
Do you need to set up a home office in the living room ? Design it with an Aesthetic look by selecting materials such as wood and adding decorative elements such as plants and vases, but always in the right measure.
Bespoke table and shelves, by Piccolo Mondo. Chair, from Catalina House. Lamps, by Avanluce.
11. Full color doors, windows and beams
Another tip of the Aesthetic bedrooms are the doors, windows and beams painted in a color that is sweet and beautiful, as in this case, blue.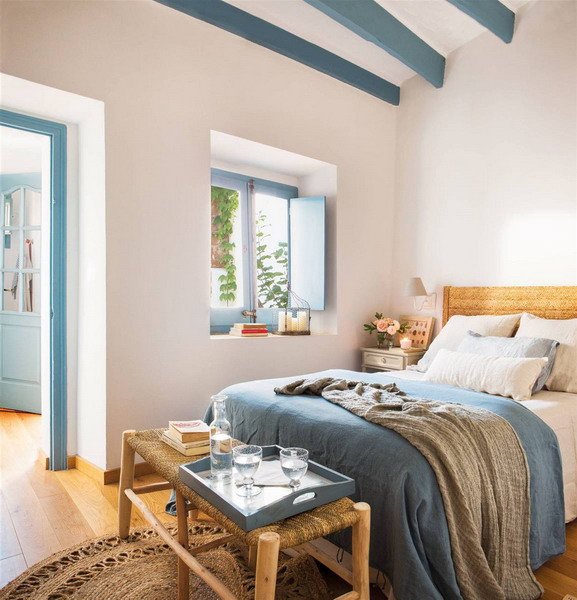 Headboard made to measure by Nice Home Barcelona. Bedside Table, from Cottage Little House and Banquette, at La Maison.
12. Add trendy furniture
There are materials that are on trend, such as marble, which you will always find in Aesthetic rooms with an elegant and sophisticated style. They go great with gold accents on mirrors and other objects.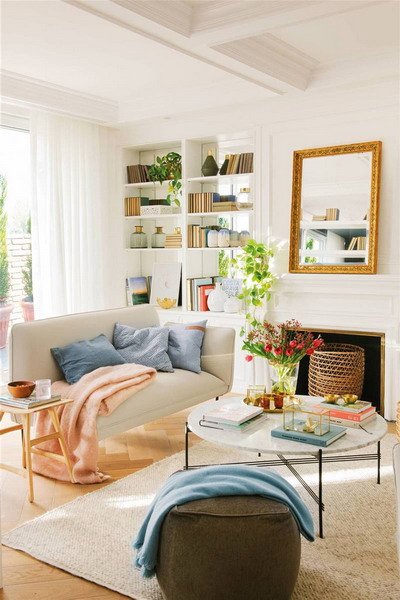 Custom sofa with Marcasal upholstery. Auxiliary table, from La Maison and coffee table at TS Coffee Table. Rug, by ID Design. Mirror, in Taimo. Pouf, in Matèria and oak flooring, by Azul Acocsa.