Natural fibers galore, ecofriendly textiles, ethnic prints in black and white… If you want to make your home fashionable this summer, don't miss 10 decoration trends that are going to be the most popular.
NATURAL TEXTILES AND ECO LABEL
Linen and cotton are the star fabrics of summer, because they are fresh and very pleasant to the touch. But the fashion for the natural and the sustainable has promoted the creation of new fabrics, 100% eco and some of them recycled, which, in addition to being natural, are sustainable and respectful of the environment. Did you know that there are fabrics made with seaweed or milk?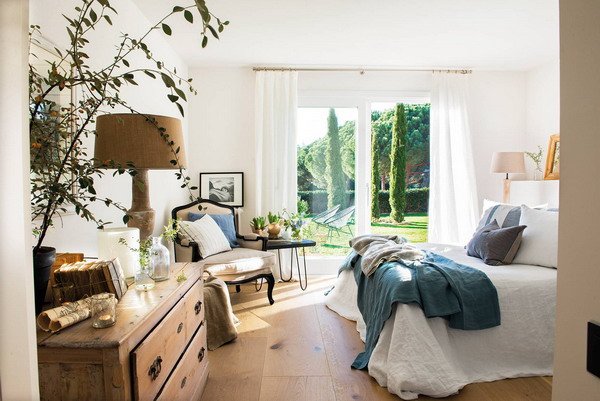 Bedding, from La Maison. Linen curtains.
FIBERS INVADE EVERYTHING
For some seasons now, natural fibers have been permanently in fashion. To the point of betting on them in pieces of furniture, like here this esparto sofa or the lamp, in addition to the typical rugs.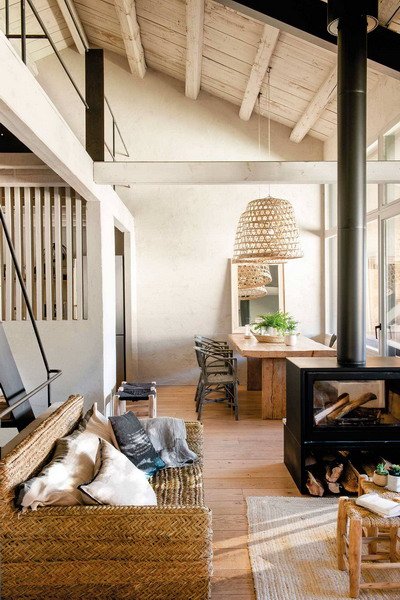 Sofa by Let's Pause and lamps by Catalina House.
HANDMADE CROCKERY CONTINUES TO SET TRENDS
We have gone from dressing the table with functional crockery without personality to valuing unique and singular pieces, handmade by master craftsmen. Among these artists we find Andrea Zarraluqui, with her wonderful hand-painted tableware with animal, botanical, geometric or organic shapes, like these.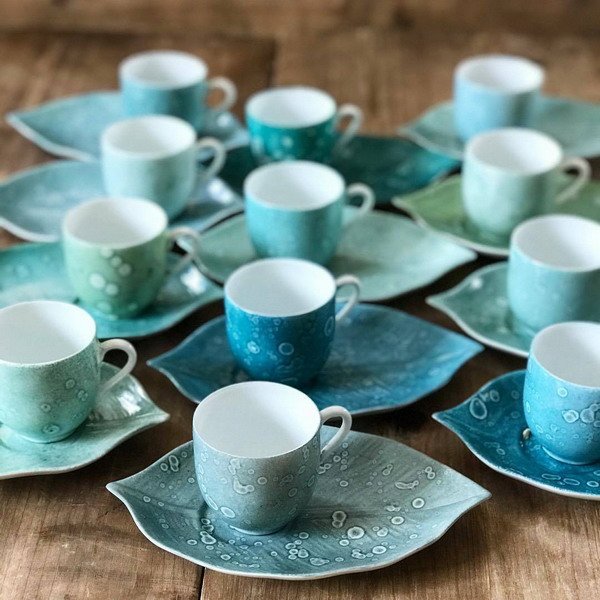 DON'T MISS THE FLOWERS!
This summer the flowers will knock on your door. In wallpapers and textiles, the floral print continues to set a trend, from the most discreet motifs to the most daring. If you are afraid of getting tired, save them for textiles, such as bedding or a cushion.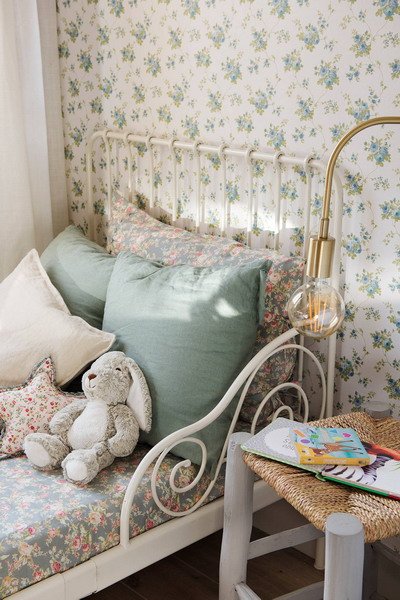 Sandberg wallpaper.
THE MOST VIBRANT YELLOW IS WORN
Superstitious? This summer is the best time to learn to overcome it, because there is going to be a real yellow fever. In its different nuances, yellow has been in fashion for a few years, but if until everything it was mustard , now the brightest and most energetic yellow triumphs, very much in tune with the summer season.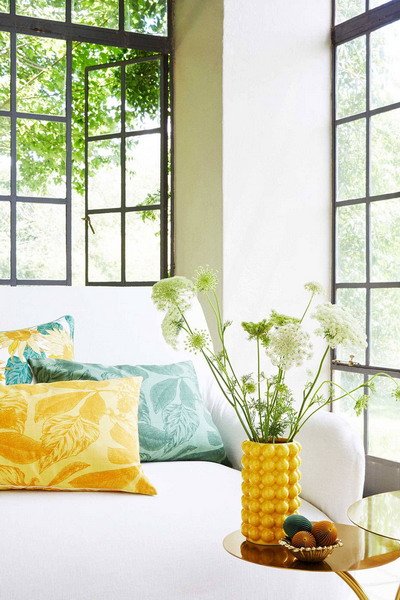 The cushions with cotton covers with leaf motifs and the vase are from H&M Home.
BET ON POWDERY COLORS
In addition to the vibrant colors that are so popular in summer, such as yellow, there is a palette of more muted colors that have already set the trend this fall. These are the powdery ones, whose low chromatic load makes them perfect for creating relaxing environments that invite calm. From the blush shades of pink or aquamarine green to the palest grays or blues.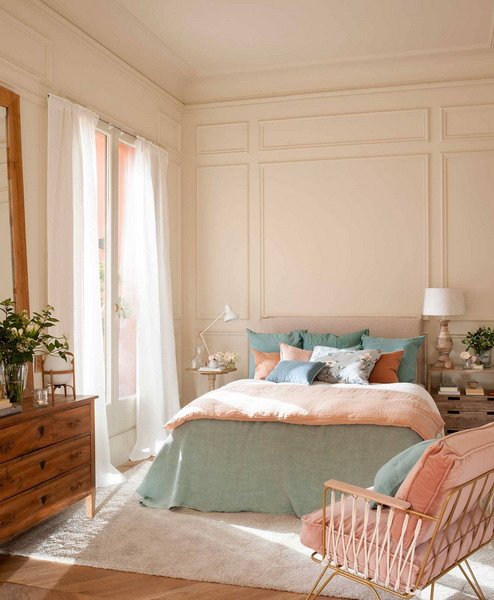 Headboard and small chest of drawers by Catalina House, round table by Merc&Cia.
MAJORCAN IKAT, TRADITION UPDATED
Authentic Majorcan ikat is a very versatile and resistant fabric whose main characteristic is that it has the same pattern on both sides. The characteristic ikat motifs, reminiscent of the flames of a bonfire, are present this season in multiple textile collections, turning tradition into trend.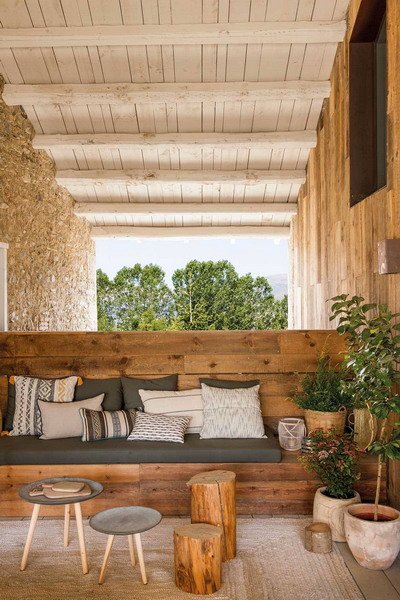 BLACK AND WHITE ETHNIC MOTIFS
Black & white fashion continues to sweep decoration. And this summer we will see many ethnic and tribal prints in these two tones in textiles, from cushions to rugs, as in this hall.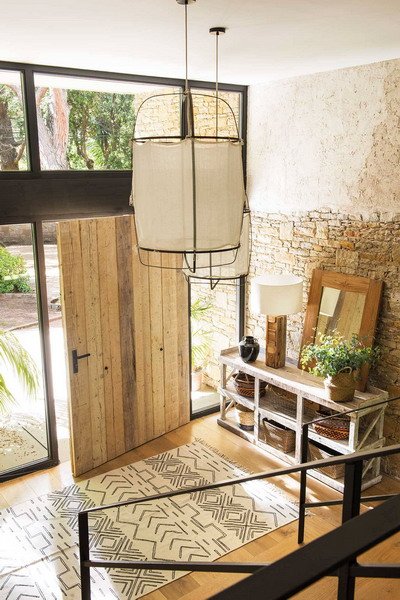 Carpet, in Carolina Blue.
VEGETABLE PRINTS COLONIZE TEXTILES
The fashion for botanicals continues to rise, bringing home a little piece of nature. Prints with leaf or plant motifs coexist this year with animal prints, especially tropical birds, which will give a touch of color and exoticism to your home.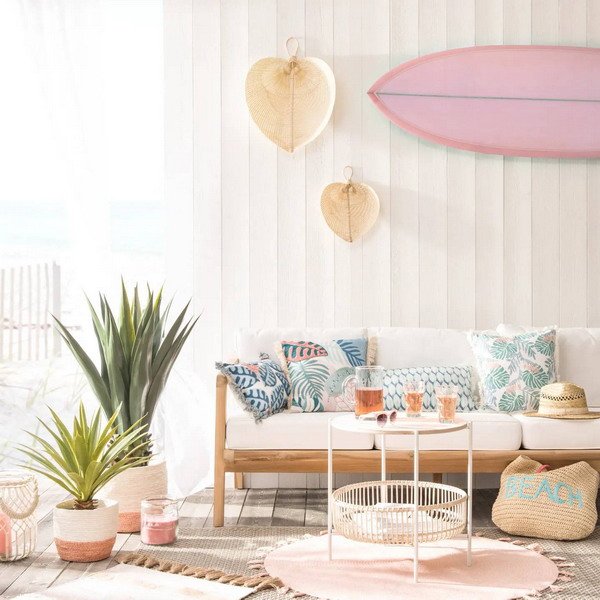 Proposal from Maisons du Monde with the Branchas, Ventura, Barrameda and Almazara cushions.
UNDER THE INFLUENCE OF BOHO CHIC STYLE
Few styles suit summer as well as boho chic, with its relaxed and informal look, the presence of natural materials, ethnic prints and notes of color, but without saturating as can happen with the bohemian style. No wonder the boho chic look is still in style this season.
This summer promises not to leave anyone indifferent, decoratively speaking. Vibrant and energetic colors such as lemon yellow will coexist with black and white ethnic prints and with a large presence of natural fibers, which we will see in accessories but also in pieces of furniture.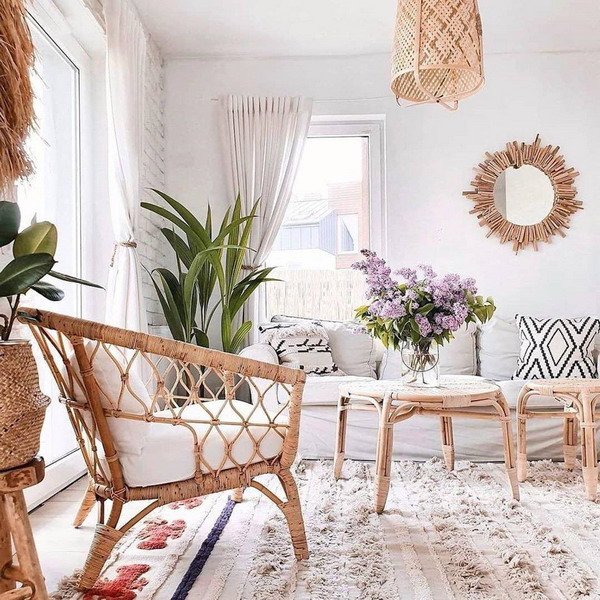 And it is that the fashion for the natural, which entered the house like a gale, came to stay. And more and more deco firms are betting on natural and ecological materials, such as bamboo, both for textile manufacturing and for accessories and furniture pieces. In fact, some firms, such as H&M, have developed a Conscious line, with sustainable.