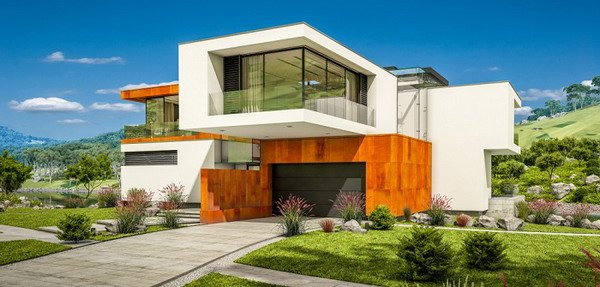 Modern houses, which are also known as architect houses, were once found mainly in urban areas. Today they are widespread and come in many different versions.
These are modern houses
Modern houses show themselves in the current style and include all design trends. They rely on the use of traditional materials on the one hand, and on new construction methods and material components on the other. Old and new details are happy to be connected, so that modern houses mostly still refer to earlier buildings and have a connection to them. They are often not very decorative on the outside and only begin to live on the inside when they are set up. In principle, they are comparable to the artist's canvas.
The basis is there, but the design is often missing. This explains why such properties, also known as architect-designed houses, allow all freedom in design and are currently extremely popular. They allow a simple combination of old construction methods and fresh, youthful and modern colors.
They are equipped with a lot of glass and allow enough light inside. The slim forms, which sometimes seem almost futuristic, make the houses appear functional. The interior, on the other hand, shows the character of the house and expresses the style of the residents. This can vary, the house adapts itself again and again!
The following features characterize modern houses :
generous, open design
light-flooded rooms
floor-to-ceiling windows
open living and dining area
based on the Bauhaus style
Use of glass, metal, steel and concrete
Installation of special windows
missing roof overhangs
In addition to these features, the roof in particular is characterized by its special features. In addition to the missing roof overhangs, there are the frequently used flat tiles as well as square gutters and downpipes.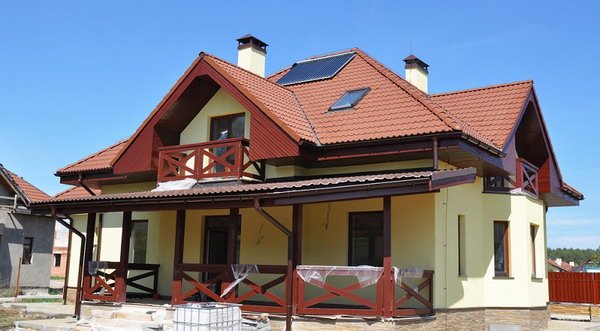 Tips for decorating the house
What makes a modern house home? The personal facility, of course. Furniture, wall design and of course decorative elements give the modern houses that certain something. Especially in the living room, bedroom or even in the entrance area, homeowners like to place their personal memories in the form of pictures and photos. So that you don't have to work on the new walls with nails right away, there are some alternatives that do without drilling and hammering.
Modern houses: dream house as a prefabricated house
Many modern houses are designed as prefabricated houses and impress with their short construction time and high functionality. Modern prefabricated houses offer a very good price-performance ratio and can now even be built as passive houses. If you can not imagine anything like this, you should consider a prefabricated house as a model house, related offers can be found in all major cities. Inside, the prefabricated house is characterized by an adapted living space and a practical division of the rooms. However, specifications and particularly individual room layouts are hardly possible.
Speaking of passive houses: These modern houses are particularly energy-efficient and sometimes do without additional heating. Only waste heat is used, and of course solar energy. In summer, these houses stay pleasantly cool, in winter they are nice and warm. The ventilation system is important here, because a fully-fledged passive house also has a passive ventilation system so that there is always enough fresh air in the house without having to open all the windows.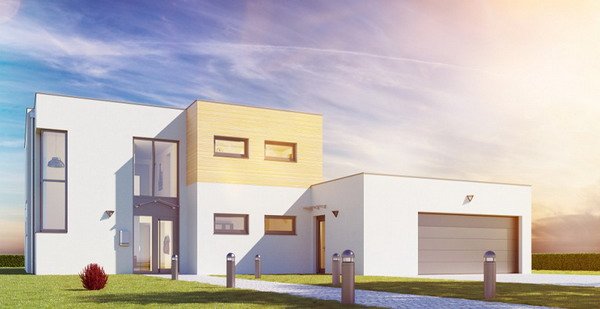 Bauhaus remains hip
The Bauhaus style dates back to 1919, when the design school in Dessau brought crafts and art together for the first time. Modern houses are based on the rather boxy style and present themselves as buildings with lots of glass and concrete. The masonry takes up a large part of the effect, overall these houses appear very airy, free and spacious. The rooms can be individually designed. From the outside, a Bauhaus style building is not for everyone, so prospective buyers should definitely look at a model house before planning their own.
Modern concrete buildings
Those who like it individually will love the concrete houses. Concrete is very robust and durable and its surface gives a strong impression. Such houses are usually not found in good company, but rather as a contrast to conventional buildings in a different style. Concrete houses are characterized by their straight lines and shapes, there is nothing curvy here. Even the interior is partly made of concrete, although care must be taken that the whole thing does not look too cool. All in all, a concrete house can be a dream house, but the homeowners should like the industrial style or the Bauhaus style.
In contrast to the concrete houses, wood is the focus of Scandinavian houses. As usual with the Swedish model, the wood must of course be painted red. This material is also found in the house and, unlike the solid stone house, wood allows the residents to breathe.
At least the lovers of this construction or this house style describe the way of life in the Scandinavian house in this way. Color contrasts are often also set, so that red and white can be found in a beautiful community. Ornaments and decorations, however, are reduced to a minimum, so that the color effect can develop wonderfully.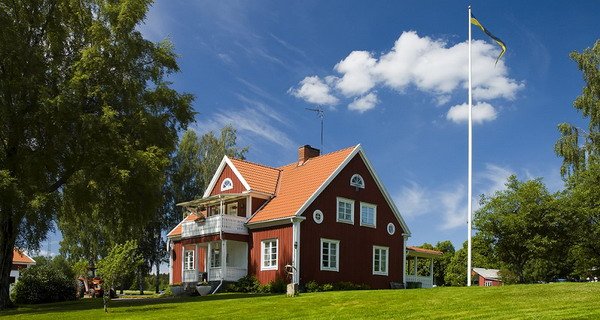 Industrial style
The industrial style already mentioned does not only refer to the interior of buildings, but also to the architectural style. It is important that the right design makes the difference and that the factory-style building does not make it look like a factory building. Here you can bring in a little cosiness, the whole thing can become cozy and, above all, looks very individual. The living space here is usually very spacious, the house construction is not always a new building, but often more of a remodeling or renovation.
The bungalow: modern houses
More and more people are choosing the bungalow when building a house. It is the counterpart to the buildings in industrial style and attracts attention with its specific shape. The bungalow limits its living space to one level, which is entirely in terms of sustainability and barrier-free living. The latter is a requirement that is placed on most newly built properties, because a builder should already make provisions for the future today. It is certainly possible to provide a stairlift or elevator when building a house, which is cheaper than retrofitting.
Nevertheless, the bungalow is the better choice in old age or with a physical disability. However, it is not suitable for everyone, because it is difficult for a larger family to find space there. In addition, the bungalow is not expandable or only to a limited extent. Nevertheless, it is a modern house that adapts to the needs of its residents. In view of the fact that more and more singles are building a house, the bungalow is of particular importance. It gives the residents complete freedom without being too big and expensive.
Tiny house
Lately they are on everyone's lips: Tiny Houses seem to be the perfect alternative for singles and couples who do not need a lot of space and do not value additional living space. The erroneous assumption that a tiny house could be built anywhere is not true. Because even such a house needs a foundation and is firmly anchored to the ground. Such anchoring is subject to approval everywhere !
A tiny house is available from 15 m² and is usually arranged on two floors. It only takes up a small footprint and is therefore often chosen as a holiday home.
Modern family houses as classics
The modern houses still include the usual single-family houses, which are built in the classic style. However, you get a certain individuality, for example by paying attention to turrets, large window fronts, an advanced entrance area with a staircase and similar details.
The modernity is shown less in the architectural style than in the fact that the building owner expresses himself personally in his building. However, this is not possible everywhere, because where the city provides a development plan, the (unfortunately often boring) uniform look is usually required. This is where other modern houses come into play, which, due to their construction, already present themselves as such.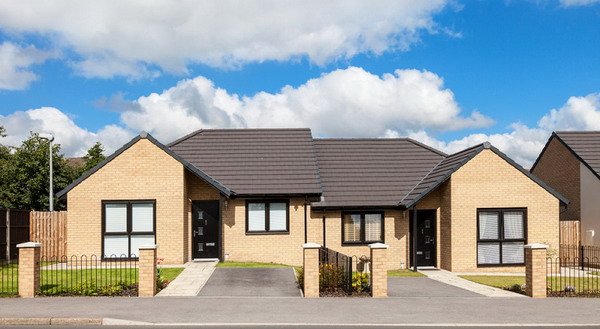 The overall look has to be right
In a modern house, it is not just a matter of the exterior adapting to current conditions and appearing "modern" at first glance. Too often, "modern" is equated with "different from usual". That may be true, but not every angular house that looks different at first glance is a modern house. Because the whole must be right and so the interior of the house should adapt to its exterior. In addition, modern houses are now subject to far higher conditions with regard to energy efficiency than were common a few years ago.
A modern house should be in harmony with its details, and despite all the differences, it should still be simple, harmonious and harmonious. The classic solid house can also be a modern house if the overall design is right. However, if it is built stone on stone from bricks, its shape must have a certain modern aspect in order not to be classified as a classic conservative building.
________________________________________
Photo credits: © Shutterstock cover picture: korisbo- # 01: Radovan1 – # 02: _Robert Kneschke – # 03: alexandre zveiger – # 04: _ Oleg Golikov – # 05: Wivoca – # 06: Ewelina Wachala